Our phone is part of our daily lives, from setting up alarm to get up early, booking a cab to give you a ride, call your mate for a lunch at the café or to post a photo on social media for your online friends that is how our phone plays an important role in our lives. Unlike in its early years, today our phone is not just a device that is used for communication, we also use it to shop online, do banking transaction, and socialize to other people. Here are the best antivirus app for android phone that you can download today.
It is a very useful device to store and secure private personal files. So keeping our phone free from any hacks, viruses and scams are very essential. Luckily, we do have anti-virus apps that we can download from Google PlayStore for free. Here are my best free antivirus apps for your android phone.
5 Best Anti-Virus Apps for Android in Google PlayStore.
Kaspersky Antivirus and Security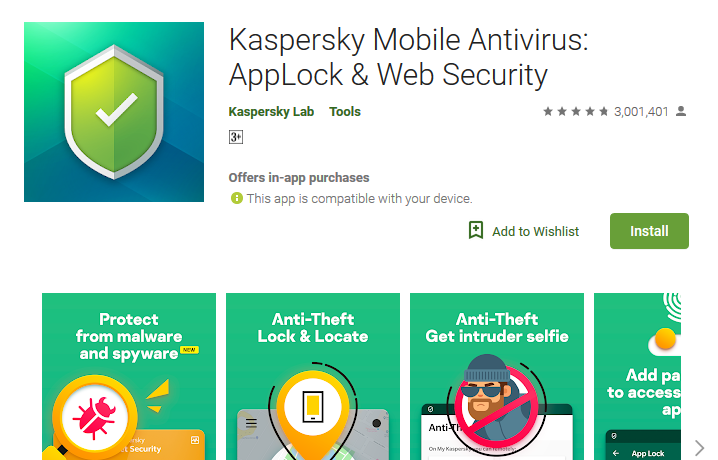 – it is one of the highest rated antivirus security app on Google PlayStore with 4.7 stars and 10 million downloads. It has free version and an in-app premium feature which you can avail for free for 30 days. Free features include scanning your phone for potential threats, anti-theft, call and text filter for possible spam calls and finding phone in case phone is lost. Premium features include Real-time protection, Text anti-phishing, Web protection for safer internet browsing and privacy protection (app locker to secure your important apps). Truly this is one the most remarkable antivirus app for android.
Download Kaspersky Antivirus and Security through Google PlayStore or though this link https://play.google.com/store/apps/details?id=com.kms.free
Security Master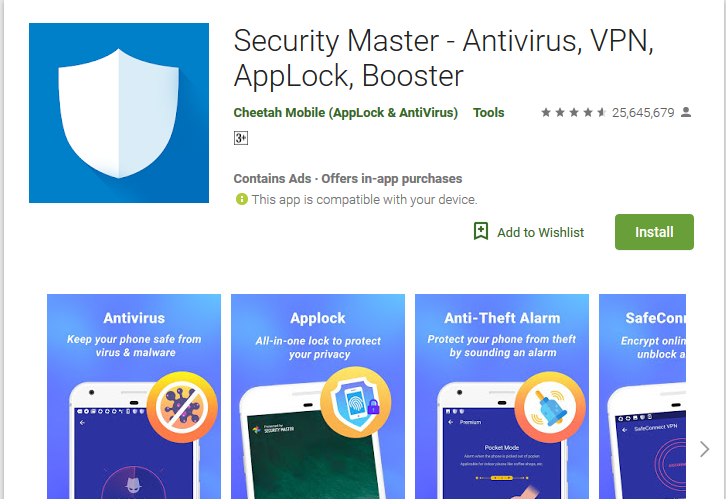 – an upgraded version of the CM Security, Security Master offers a wide scope of phone security and privacy protection. This antivirus and protection app has 4.7 stars on Google Play and 10 million+ downloads. They are redefining free antivirus and security app on androids giving you a lot of awesome features for free. It has One Tap cleaner that scans and remove junk files from your phone, including system and app caches. It stops background app from running, with its Phone Booster. Prevent your battery from draining with its Battery Saver feature and prevents overheating of your phone with its CPR Cooler. It also has Wi-Fi Security, which checks potential phishing Wi-Fi networks, an Anti-Theft Alarm, App Lock to keep your private files secured. On its premium feature, it has Safe Connect VPN, that allows you to hide your IP address and apply virtual location, this all to protect your online activities, like banking and online shopping, from potential leaks. You can also bypass and can let you access websites anonymously, websites that are not available in your country without being tracked. And most especially, it has Intruder selfie which captures photos of intruders.
Download Security Master through Google Play or through this link https://play.google.com/store/apps/details?id=com.cleanmaster.security
Norton Security and Antivirus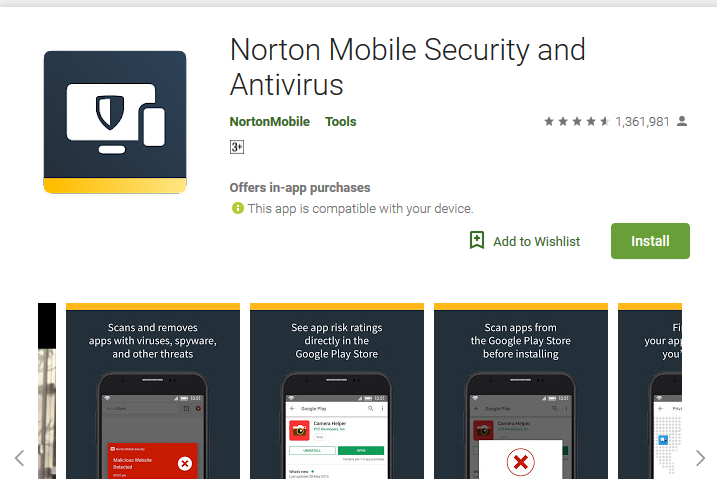 – another awesome security and antivirus app available on Google PlayStore for your android phone are Norton Security and Antivirus. Second highest rated security and antivirus app on Google PlayStore, with 4.5 stars and 10 million downloads. It has a free version and premium feature. Norton security and antivirus app promise to be proactive in protecting your phone, thus after installing and opening the app, automatically it will scan for any anti-malware and privacy settings, as one of the free features it offers. Aside from that its free features include Wi-Fi-security which checks your Wi-Fi connection if it is safe to connect, App lock, which lets you lock your private apps, Anti-theft and call, and text blocking. They have a free 30 day free trial for their premium features, which includes Web Protection for phone's web browser like Chrome or Internet, App advisor and App Advisor for Google Play detecting some potential threats to mobile apps.
Download Norton Security and Antivirus through Google PlayStore or through this link https://play.google.com/store/apps/details?id=com.symantec.mobilesecurity
Avira Antivirus Security 2019-Antivirus & AppLock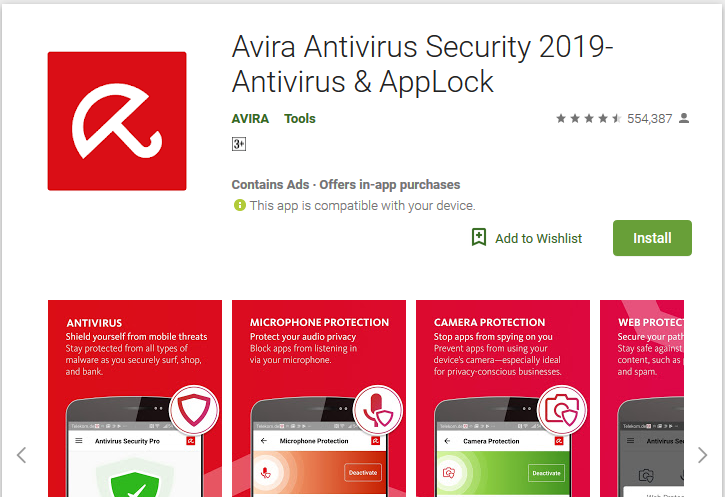 – another trusted security and antivirus app for android downloadable at Google Play is Avira Antivirus Security, this has 4.5 stars and 10 million downloads. It has awesome free features, such as virus scanning, phone tracker which helps you track your phone if it is lost or stolen. It also has App lock that keeps you make some of your apps private. Web Protection for safer internet browsing. The Super light virus protection that can scan viruses and malwares without slowing your phone down and draining your battery.
Download Avira Antivirus Security 2019-Antivirus & AppLock through Google Play or through this link https://play.google.com/store/apps/details?id=com.avira.android
McAfee Mobile Security: Antivirus, Wi-Fi, VPN, and Anti-Theft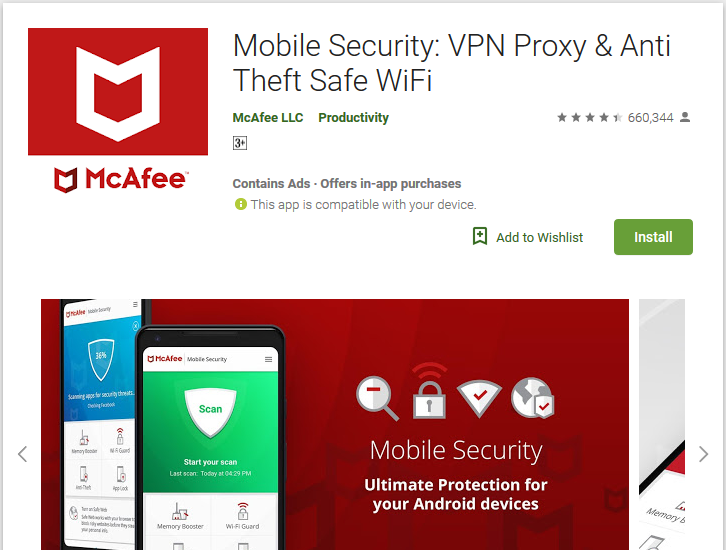 – This is most probably the most famous antivirus and security app for androids. It has won several awards for its excellent and reliable features. McAfee Mobile Security: Antivirus, Wi-Fi, VPN, and Anti-Theft has 4.4 stars on Google Play and 10 million downloads. It is the most trusted antivirus and security app, which protect you against potential phishing, risky apps, Wi-Fi threats, and spam. Its security engine is powered by McAfee Global Threat Intelligence giving you advance scanning. Its free features include Performance Optimization, with just one tap you can extend battery life with its Battery Booster, free up some memory from background apps, delete unused files and apps and helps you monitor data usage. Another free feature is ANTIVIRUS SECURITY & WEB PROTECTION SCANNERwhich cleans your phone from any potential malware malfunctions and viruses, protects you from unsecured Wi-Fi networks. It has an advanced ANTI-THEFT & MOBILE SECURITYthat is also free. In case your phone was stolen, it has a tracking system that locates it and can trigger an alarm, it automatically locks the device after 3 failed passcodes attempts. The premium feature includes Web Protection, Wi-Fi Guard VPN and App lock.
Download McAfee Mobile Security: Antivirus, Wi-Fi, VPN and Anti-Theft through Google Play or through this link https://play.google.com/store/apps/details?id=com.wsandroid.suite
You can choose either of these apps in to your phone. We always value security to our personal information, so this security and antivirus apps are essential to keep our personal information personal.