Have you ever encountered a RAR file that you were so excited to open and to your dismay the file is protected by a password. Yes, there are occassions that I experienced that as well encountering a password-protected RAR or zip archive file without knowing the password is so frustrating to say the least, and you have no way of knowing it!
But now, I am not worried anymore. In this article, I will share a method that saved me from unlimited guessing on what the password will be. I found this powerful rar and zip password unlocker tool called EZZY, a powerful RAR password unlocker that is both easy to use and completely free. This step-by-step guide will teach you how to unlock RAR files without using any software, yes!
Unlike on the others tools you see online when looking for a way to unlock password protected rar file that often times you need to download and install a software that doesn't even work! This method uses no software as it is online based password unlocking tool, allowing you to access your files quickly and effortlessly.
Unlocking RAR Passwords with EZZY for FREE
EZZY is a WinRAR and Zip file password unlocker tool that can be used both online and offline. It is designed to crack passwords of any RAR file quickly and efficiently. This tool is available for free and comes with a user-friendly interface.
Unlocking RAR and ZIP Files Without using Any Software
To get started simply visit https://www.ezzyunlocker.com/.
Click on the "Online Tool" option. Click on the "Browse" button and locate your .rar or .zip file.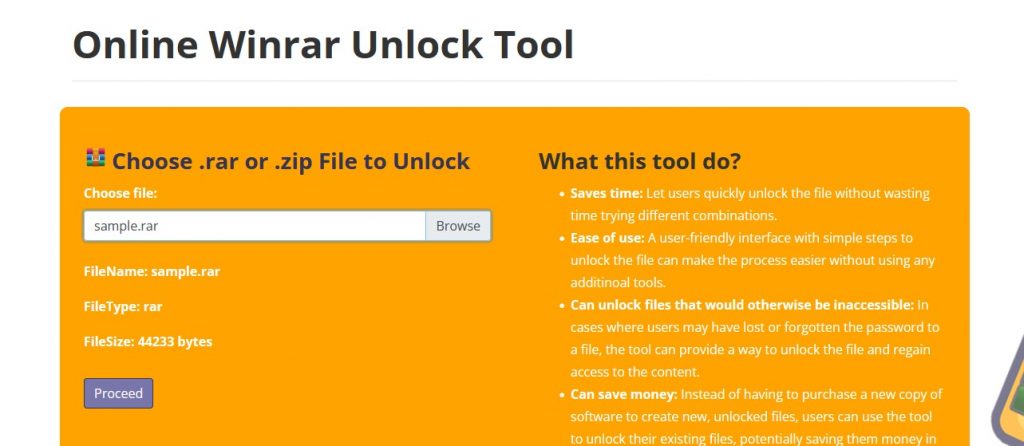 After selecting the file, click on "Proceed" and then "Unlock Button".
Wait for the process to finish, which should take approximately 5 minutes.
Click "Download File Now" to download your unlocked file.
That's it! EZZY RAR unlocker tool claims to have unlocked passwords with 95% accuracy!
Removing Password on RAR and ZIP Files using a Desktop App
Again to get started go to https://www.ezzyunlocker.com and click on "Download" to download the zip file containing the tool.
Unzip the file and open the EZZY Rar password remover tool.exe file.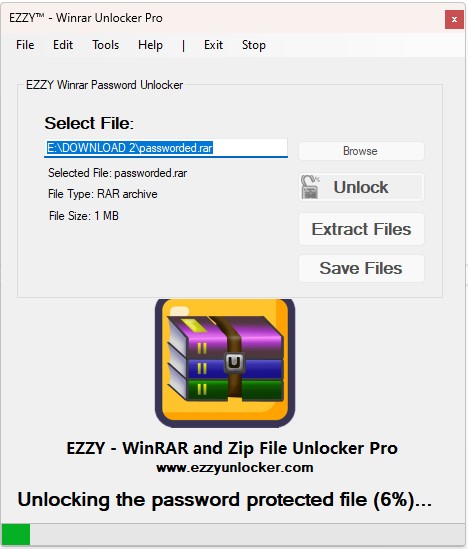 Before you can use the full features of the tool you have to "Activate the product" first, by clicking the "Activate Product" button and follow the instructions on how to activate it. Don't worry activation is also free you have just to complete free surveys to get your activation code.
After that, you should now be able to use the full features of the tool. Click on "Browse" to add your RAR file to the program.
Click on the unlock button and wait for the process to finish.
Extract and save the files to a new folder.
Done! The whole process wont take you more than 10 minutes. Other tools will take more time and they cost a lot!
EZZY Features that others don't have!
The quickiest and efficient RAR Unlocker tool
Unlock RAR and ZIP Files online! No software needed.
100% FREE Tool! Yes, the tool is 100% free to use with 95% accuracy.
User-friendly. Even kids can use the tool.
Supports multiple attack types for various password complexities
Compatible with all RAR format versions
Works with .ZIP files.
Supports Windows 10/11
24/7 Support
So, if ever you would find an effective winrar unlocker tool EZZY Rar password remover tool is the way to go. It offers a simple and efficient solution for unlocking password-protected RAR files without the need for any software. Its user-friendly interface and free-to-use nature make it an ideal choice for users looking to access their files quickly. Seriously, I find it very hard to believe that this tool is free. You can find free rar unlocker tool in the internet, but basically doesn't work like EZZY and often times and ask for a payment after a single use.