Hackers use this method to gain access to anyone's Snapchat account
Have you ever heard the news regarding Snapchat accounts getting hacked by some hackers? And more and more Snapchat accounts are getting hacked daily since then. Your friend's Snapchat account got probably hacked too. It's like it is very easy to hack these accounts nowadays, but we'll tell you that if it isn't because of this website we are going to share with you hacking a Snapchat account are only for professionals. Get ready to learn how these hackers hack Snapchat accounts without learning how to code.
A 15-year-old kid even reported that he successfully hacked his bully's Snapchat account and shared silly things on his contacts on it. The story goes on and on. This one husband that is very curious about his wife getting busy with her phone had successfully accessed her Snapchat account and found out that his wife was actually busy with another guy and they have been communicating for quite some time. Note that both the kid and the husband did not even touch his wife's phone to get accessed to her Snapchat account.
Hacking Anyone's Snapchat Account Without Touching Their Phone – Using only a software
What is amazing about this Snapchat hack tool is that you can easily hack anyone's Snapchat account without getting your hand on the victim's phone. That won't be called hacking right if you have access to his physical phone.
To hack a Snapchat account you have to use this website that enables you to enter the victim's contact username and it will do the hard work for you. Hands-free Snapchat hacking wouldn't be possible without this website. Are you ready?
Hacking Anyone's Snapchat account Full Method
Step 1 – First, visit https://socialcheats.net/
Step 2 – then on the menu tab click on the "Hack Account"
Step 3 – Then, enter the Snapchat account you want to hack.
Step 4 – Choose what you want to hack. The website allows you to hack the "Snapchat password" of the account or just "Download the Chatlogs".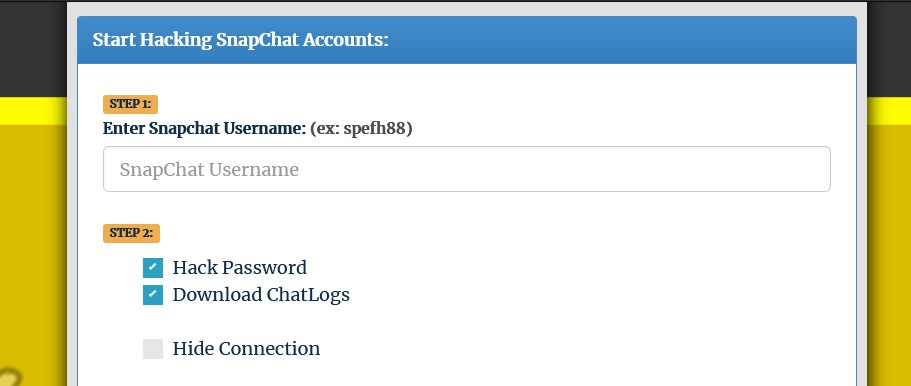 Hacking the snapchat account password – when you use this method you will gain access to the victim's full account and able to do a lot of things such as sending messages to his/her contact just like what the kid I told you about. Or just download the chatlogs where you will only download the chat conversation on a .txt file and review it yourself.
Note that when you choose to download the chat log history you will be asked to up to which history you want to acquire logs, you have options on how many days for up to 60 days to chatlogs history. The website claims to be working on updates that enable the user to download up to 100 days of chatlogs but it's taking too long so for now enjoy these features.
What Will You Get?
Below is the sample of files you will get from the website. There's a folder for each of the file types such as .txt files for the chat logs and jpg/png files for the images which are located in the Images folder. They also have Video's folder which contains the short videos submitted and downloaded by the victim's account. You will also get a .txt file that contains the most important part of this hacking journey. It contains the username, password, and Hash of the victim's account.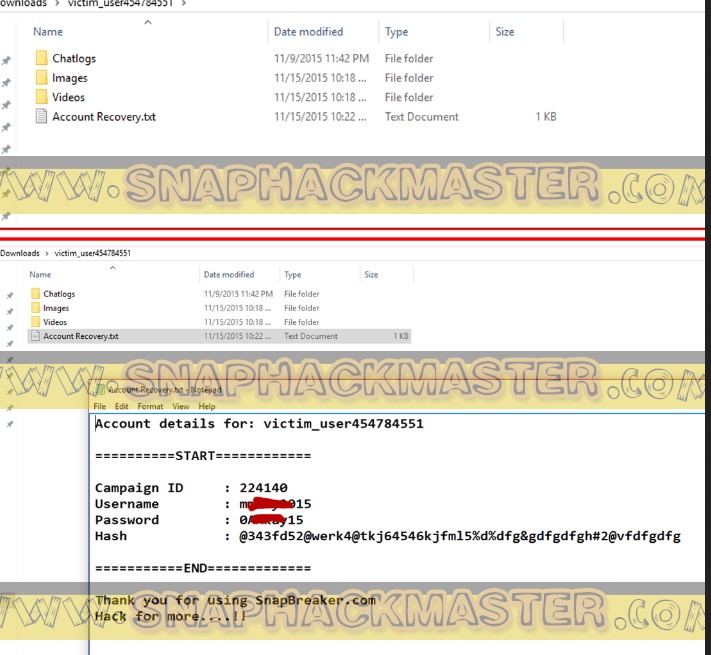 Using these details, you can easily access the victims account with ease and do whatever you want to do on his/her account.
Final Words
I just realized that how easy it is to gain access on someone's Snapchat account without even a single knowledge of how hacking works. You only need to enter the username of the victims and you are done! How cool is that? No wonder a lot of users are reporting hacked account and are constantly changing their passwords to avoid getting hacked!